Do your current window blinds look tired or out of date? If they do, then you might want to look into some striped window blinds. These add visual texture to your windows and a unique feel that can help redefine how one of your rooms looks.
Before you go any further with these choices, you'll want to consider whether to pick out blinds that have an up-and-down orientation or a side-to-side one. Consider which options are best for light filtering or your home style.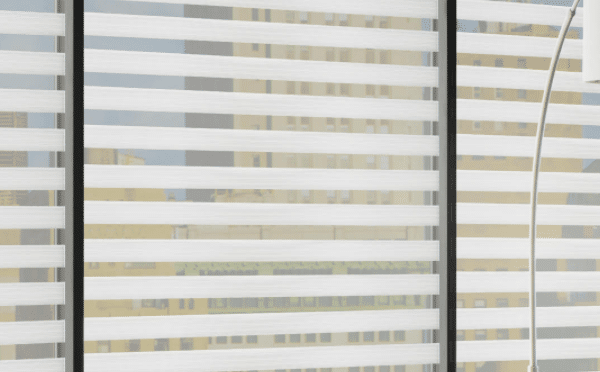 Vertical Or Horizontal Striped Blinds?
The answer to this question would depend mainly on the type of windows you have. Some types, like angled windows, for instance, would require specialized window treatments. Any windows divided up into a series of individual units might be better off with horizontal striped blinds. 
Vertical blinds are an excellent choice for long picture windows, like those found in higher-end commercial developments. In either case, you'll want to make sure that the window treatments you're looking at fit your windows correctly. 
Properly fitting blinds will work better and should prove to be far more attractive than those that are undersized since they won't have any gaps underneath their lowest point. Regardless of what kind of option you end up going with, you'll want to tie the look of your new striped window treatments in with the rest of your decor.
How To Decorate Your House With Striped Blinds
Anybody trying to redesign their living quarters will want to pay attention to the window treatments and everything in the room. Consider trying to bring in some of the colors of your new blinds. Alternatively, match your new blinds to all of the existing decorations that you currently have.
This might be an especially attractive option for those who have vintage tastes. The stripes in these blinds will help to pull out some of the patterns that were popular during previous periods.
Striped Window Blinds Ideas For Your Florida Home
Considering the amount of sunlight that many people in Florida homes would get, you might want to invest in some thicker striped window blinds. These can help to block out some sun while making it easier to keep a relatively modern or vintage appearance depending on your tastes.
Try mixing up the use of both vertical and horizontal striped blinds on different windows to give your home a more varied feel. You might also want to try replacing all of the window treatments in your home with matching striped blinds. Some may think of these as having a sort of tropical feel, as striped window blinds were at one point quite trendy among those who managed resorts.
Get Striped Window Blinds Today At Reef Window Treatments
At Reef Window Treatments, we've worked to put together various styles that should look great in almost any arrangement. Look at options that are easy to install. 
Take a few moments to get some measurements of your windows and then contact Reef Window Treatments online. Our team will help you find just the right striped window blinds that'll look great in your home or even on a commercial property.