It is believed that the kind of light that you invite into your space can affect the quality and feel of your home environment. This is why we dedicate ourselves to make room darkening and light filtering window treatments for a wide selection of shaped windows. Our window treatments are designed with the latest science and technology and have the aesthetic appeal of classic and stylish shades, shutters and curtains.

Hunter Douglas Applause® and Hunter Douglas Duette® are both Honeycomb Shades but what's makes them different? We have made a guide to help you along the way so you can choose the cellular shade that's just right for you.

Hunter Douglas Applause V.S. Duette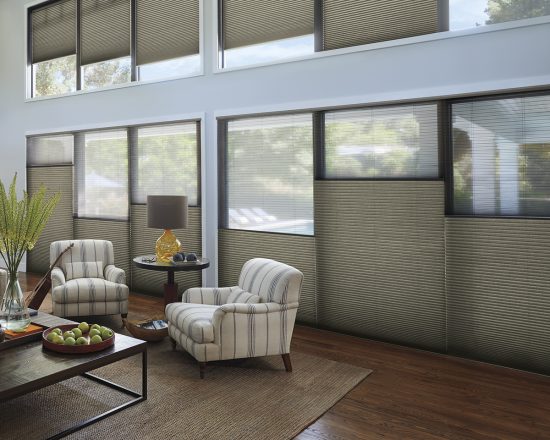 If the function you are most interested in is energy efficiency, the Hunter Douglas Duette honeycomb shades are just for you. The cell construction design traps air, it is composed of pleats with the size and shape of a honeycomb which creates pockets of air. You won't have to worry about keeping your house fresh and cool in the summer or warm and cozy in the winter. The modern technology of the Duette has the potential to save energy consumption and best of all helps you reduce energy bills.

A light control system with elegance and style! Our fabric collection includes a wide variety of colors and textures to go with diverse styles of interior decoration. There is a kind of fabric for every taste and every room of the house. Enjoy the natural light with the Honeycomb Duette Shades which creates a serene ambiance anywhere you install them.

If you have a sliding door, the Duette Vertiglide is the best option for you! Hunter Douglas Duette Operating Systems are best for doors that need that extra insulation. Don't let the heat escape from the coolness your sliding glass door brings in, apply the Vertiglide™.

Applause Honeycomb Shades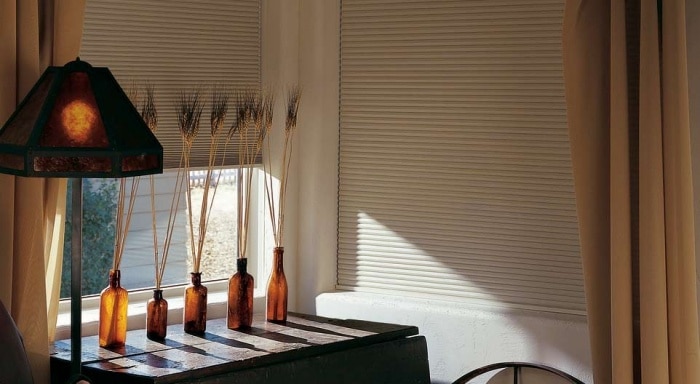 The Applause Honeycomb shades are composed of a double-cell construction. As opposed to the Duette, which is composed of an array of single honeycombs. Meaning that the Applause has the potential to offer more insulation. While still a very elegant option, the Applause has a very limited selection of fabric options and colors.

We recommend the Applause for those seeking a window treatment for large windows and sliding glass doors. The Applause will complement any window treatment and any style of decor.

Find Hunter Douglas Duette At Reef Window Treatments!
At Reef Window Treatments our priority is to help you find the perfect window treatment to go with your home. With the right window treatment, we can change and enhance the ambiance of any room in your house, due to our light filtering technology and energy-efficient design.

We are dedicated to manufacturing stylish window treatment designs along with the innovative technology needed to create a comfortable and convenient environment.

If you have any questions, comments or would like to request a consultation, contact us!