The best window treatments for commercial buildings are those that filter out UV rays and protect your valuables. Just because you are getting a window treatment for a commercial building however does not mean you shouldn't invest in something stylish. At Reef Window Treatments, we dedicate ourselves to providing the best window treatments for your spaces.
Our window treatments combine modern technology to filter out harsh UV rays with contemporary designs to provide your commercial space with an aesthetically pleasing environment.
Commercial Office Window Treatments
The Hunter Douglas silhouette window shadings are an elegant option for commercial buildings, they filter out harsh sunlight and will provide beautiful natural light into your space. These window shadings have a white rear sheer in order to protect your employees' privacy and valuables. Cover your windows with the Silhouette®® to give your commercial window a stylish upgrade.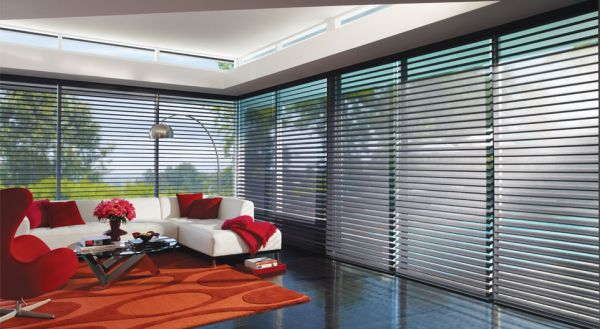 The Luminette® Privacy Sheers come with a luxurious design that will give any commercial or office space a clean, crisp, and elegant appearance. Protect your valuables from harsh UV rays with the Luminette® while at the same time inviting soft natural light to illuminate your commercial space.
The Hunter Douglas Duette® is a honeycomb shade like no other. The name is inspired by bee's honeycombs since the Duette has air pockets that mimic the shape and design of honeycombs. These air pockets trap air so that you can economize on energy bills and save electricity.
The Duette® has a sheer and neutral color that can easily adapt to any commercial space, if you would like to personalize your window treatment we also offer various colors, fabrics, and textures to suit your personal style.
Commercial Office Blinds at Reef Window Treatments
At Reef Window Treatments we are dedicated to creating modern window treatments with a classic design and innovative functions. Our mission is to enhance your commercial spaces through shades, blinds, and shutters among other treatments.
We believe that light or lack thereof can either improve or diminish the ambiance of your home, which is why we invest so much of our time in agile research and invention to accommodate all our diverse clients. We provide a wide array of window treatment products, ideas & solutions in order to satisfy our customer demands. It is our utmost pride to offer you such an important element for your business or home.  
If you have any questions or comments and would like to speak with one of our experts, contact us on our online platform.