Small dining room windows can pose obstacles when it comes to finding the perfect window treatment to accompany it. Luckily enough, at Reef Window Treatments, we have put together this guide of the best window treatments for small windows in order to help you pick out the best window treatment according to the size of your dining room. Explore our small window curtain ideas below!
Small Window Curtain Ideas
If you have small dining room windows we recommend opting for sleek and thin aluminum slats such as this window treatment. These metallic slats will provide your dining room with a crisp and clean look that can make your space look uncluttered and minimalistic.
The Modern Precious window treatment comes in various metals, from metallic to a pearly finish, along with different textures so that you can choose the one that is best suited to your interior decor.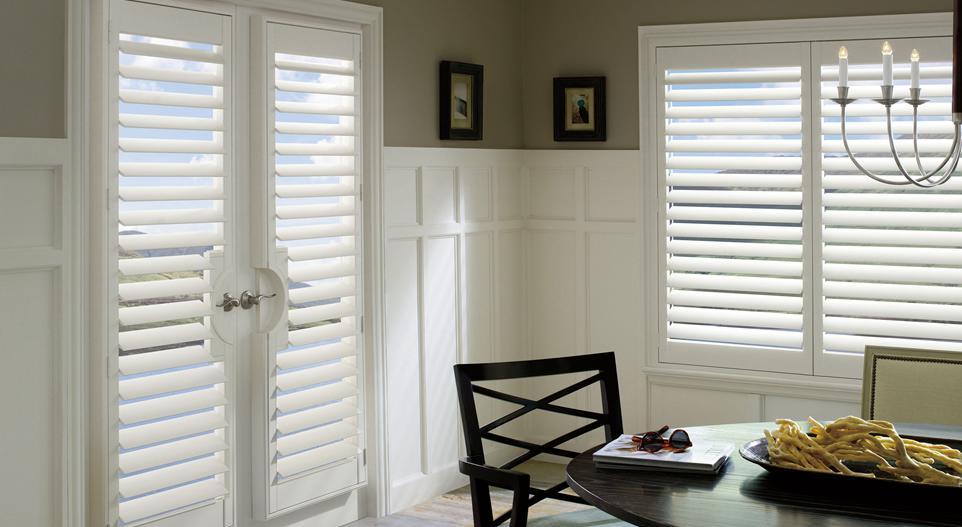 If you have small windows, chances are you would probably like to maximize the amount of natural light that comes in in order to illuminate your dining room. Plantation shutters are a good option for small dining room windows because due to the ample space between each shutter a lot of natural light will be able to come in, brightening up your space.
Plantation shutters are attractive and simple and can give your home a nice rustic look. These types of window treatments are very popular due to their ability to match effortlessly with any type of style when it comes to interior decoration.
Our pleated shades feature a distinctive attribute, the option to open your windows Top-Down/Bottom-Up. No matter which way you pull, up or down, you will be able to invite natural light into your home and make the most of your small windows.
Dining Room Window Treatments 2020
At Reef Window Treatments, we pride ourselves in providing window treatment solutions that are contemporary, high-tech, and that filter light elegantly to give your space the luxurious, crisp clean look your home deserves. 
Contact us to request a consultation to find the best window treatment solution for your home.

Summary
Article Name
Small Dining Room Window Treatment Ideas
Description
We have some valuable window treatment ideas for your small dining rooms. In 2020, minimalism became more popular especially among the younger generations. So, these small dining room window treatment ideas are perfect for minimal Florida houses.
Author
Publisher Name
Publisher Logo