Have you considered window treatments for homes with pets if you have dogs or cats? Some pets may want to peek outside or rest on a windowsill. They like playing with blinds or shades, snagging on dangling cords, or warping blinds. You want to invest in material that reduces the risk of injury or damage to the blinds.
Try to avoid mini window blinds or roller shades. Mini blinds can bend easily, especially when made of vinyl or aluminum. Roller shades tend to have cords, and pets love to play with them.
Best Material For Pet-Friendly Window Coverings
When looking at window coverings, the material is an essential factor. While vinyl or aluminum is durable, bamboo is a bad idea.
Wood
Wooden blinds are designed to handle wear and tear. Even if a dog or cat paws the blinds, the damage will be minimal.
A few different types of wood work well for pet-friendly window treatments. Basswood and poplar are two of the most common options because they are lightweight and durable. They also have a natural resistance to moisture, ideal for humid environments.
Faux Wood
Faux wood blinds are a great way to save on costs of natural wood and customize the design if you wish for your home. Some are designed with extra layers of lamination and reinforcement.
If you have a pet that likes to jump up on the windowsill, faux wood blinds are a good option. Faux wood is made from PVC, making it more resistant to moisture and scratches.
Fabric
If you prefer fabric window treatments, look for options made from wool or cotton. These fabrics are more durable than silk or linen. Cotton is also more breathable, while wool is waterproof. That makes them good options for tropical weather, especially when used in Hunter Solera Shades.
Velvet is a fabric that can be easily damaged. Cats may scratch velvet material for the tactile sensation, which will leave permanent damage. If you have a cat that likes to scratch, you may want to avoid velvet or other delicate fabrics.
Types Of Pet-Friendly Window Treatments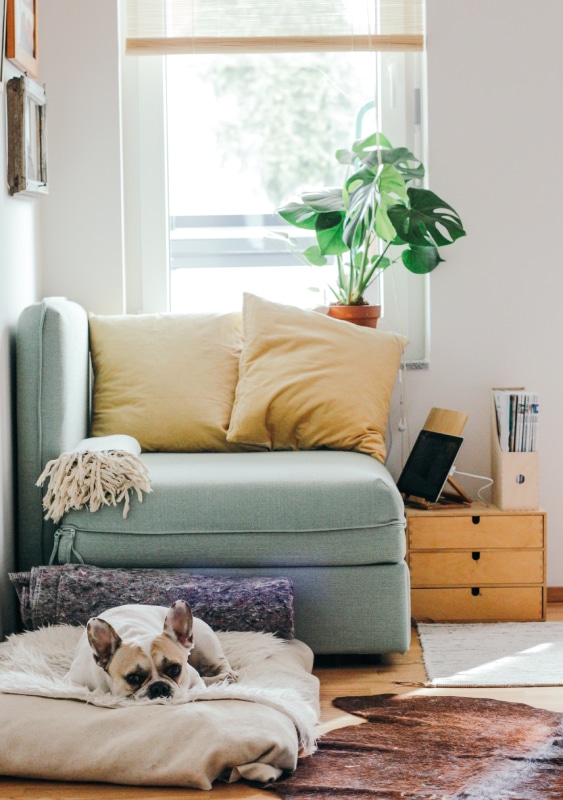 What are the best types of window treatments for your home? We go through some of the top three options.
Vertical blinds: These window treatments have individual slats that are easy to clean and maintain. Plus, you can get them in fabric or vinyl, which are pet-friendly materials.
Plantation Shutters: Plantation shutters are a popular window covering choice for pet owners because they are durable and easy to clean. The wide louvers on the slats make it easy to clean any dirt or hair that may accumulate, and they can be hosed down if necessary. Unlike mini blinds or roller shades, plantation shutters will not bend or warp.
Cordless Shutters: Cordless shutters are a great idea for homes with pets because they are safe and easy to use. Since there are no cords to worry about, your pet can't get tangled up in them and injure themselves. Plus, cordless shutters are easy to operate – you open and close them with a button. Some smart shutters or smart shades come with a "pet mode."
Provide Comfort For Your Furry Friends
Reef Window Treatments knows how important window shades are for sunny areas. We have the right roman shades for any Florida home that will match your style while looking good.
To find out more about pet-friendly window treatments, please reach out to us today. The experts at Reef Window Treatments are brimming with good ideas for your benefit.