While your privacy is important to you, the chances are good that you leave your windows open at least a few times a week. Whether you want to take advantage of the nice weather outside or just enjoy a cool breeze, you don't think twice about popping open those windows.
Each time that you open a window, though, you let the hot air inside that can fill your home and make it warmer than ever. You also risk letting your neighbors see everything that you do. With the Hunter Douglas vertical blinds available here at Reef Window Treatments, you can get the privacy that you need.
Window Blinds for Privacy
Hunter Douglas makes a number of vertical blinds for those who prefer their privacy. Vertical blinds hang down from a treatment placed at the top of your window. As the blinds swing back and forth, they disguise the inside of your house and block out prying eyes.
The blinds are easy to adjust for those days when you want to see outside too. They are made with a beautiful, highly functional design. You can even open and close the blinds in the middle of the day to let in more light when you need it.
Other Reasons to Invest in Vertical Blinds
Another reason we recommend window blinds is because they can help your home stay a little cooler. Whether you have a few AC units in your windows or central air, you may still want to open the windows now and then. With Hunter Douglas blinds, you can easily adjust them to reach your window. The blinds can repel some wild animals and insects outside while still letting in the light breeze and fresh air that you want.

Loads of Colors and Designs
At Reef Window Treatments, we offer some top products from Hunter Douglas. Do you have a budget in mind and worry about spending more than you can afford? The Vertical Solutions line includes some affordable vertical blinds that come in a 3.5-inch style.
Not only can you pick these blinds in a few standard colors, but you can choose from some great patterns too. The Skyline design is even better for some because this system comprises large panels that cover bigger sections of your windows. We highly recommend checking out some great options on our website before you call us.
All of Our Available Options
Skyline® Gliding Window Panels
Our Skyline® Gliding Window Panels are a patented twist on panel track blinds. A sleek, contemporary panel design lends modern drama to any décor, whether covering large windows or when used as a unique sliding room divider. Learn more about Skyline® Gliding Window Panels.
Cadence® Soft Vertical Blinds
Our Cadence® Soft Vertical Blinds feature patented curved vanes, mimicking soft drapery folds that move smoothly and quietly along their track; ideal for elegant styling and translucency. Learn more about Cadence® Soft Vertical Blinds.
Somner® Custom Vertical Blinds
Our Somner® Custom Vertical Blinds offer the largest selection of colors, treatments, and textures, from smooth metal finishes to geometric patterns—in fabric, vinyl, and aluminum. Learn more about Somner® Custom Vertical Blinds.
Vertical Solutions® Vertical Blinds
Our Vertical Solutions® Vertical Blinds are an economical assortment of verticals offered in 3 ½" styles, patterns, and colors. Available in fabric and vinyl. Learn more about Vertical Solutions® Vertical Blinds.
Custom Installation and More
For the ultimate in window blind installation for your Florida home, turn to Reef Window Treatments. We offer a wide range of Hunter Douglas vertical blinds and can handle custom installation too. If you think your windows aren't the right size for blinds, think again.
To get the best window treatments for, contact Reef Window Treatments today! We can measure those openings and create custom treatments for each window. You can also work with us to make sure that the treatments you choose will fit with the budget at hand. 

Summary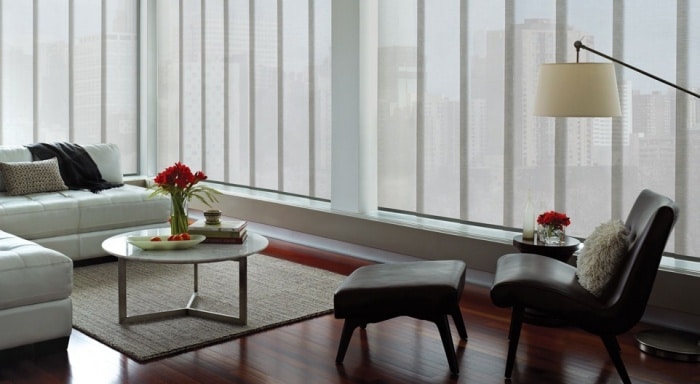 Article Name
Vertical Blinds From Hunter Douglas
Description
Check out some of the great styles of Hunter Douglas blinds that you can buy and see how Reef Window Treatments can install them for you.
Author