Many people have said that automatic outdoor window shades are something that they never knew they had needed until they got them. Before they took the plunge, these homeowners never really thought about what they were missing. Things changed, however, and once they had motorized outdoor window shades added to their homes, they never knew how they lived without them.
While it might seem like an unnecessary luxury if you haven't had a chance to use them, they're a great way to give yourself the right mix of light at all times of the day. We asked around at Reef Window Treatments for the most popular reasons to install them.
Why Do You Need Outdoor Window Shades?
Think about how often you go around adjusting your window treatments. There's a good chance that you leave them closed all the time and deny yourself pleasant natural lighting. Alternatively, you fret about with them multiple times every day. Outdoor window shades can help solve this problem by taking care of the issue for you.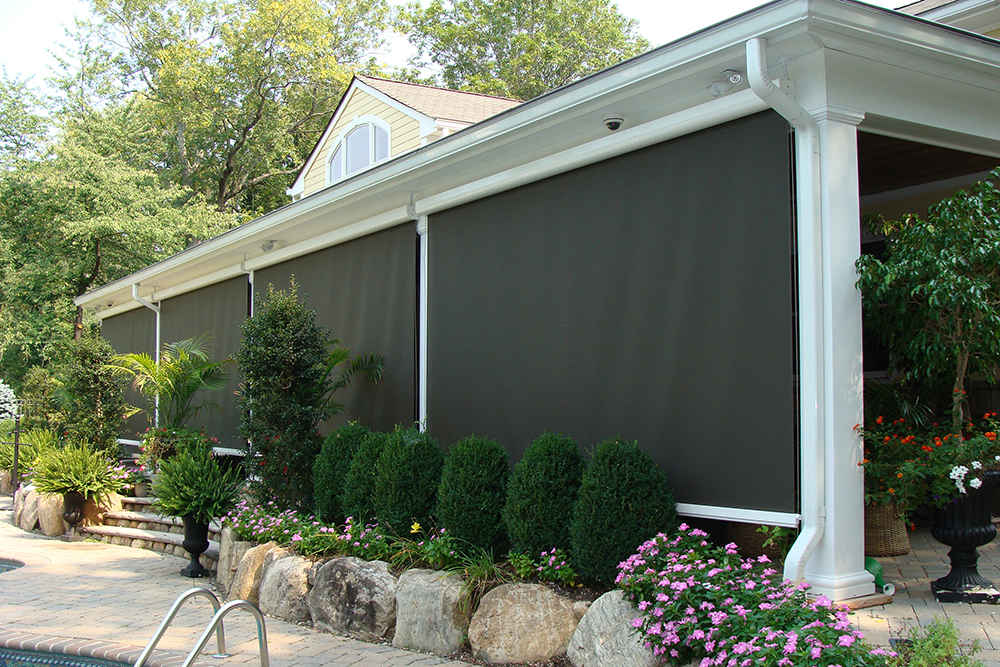 Protection Against UV Sunlight
Having a motorized screen can keep you from getting sunburned and it's better for your health because UV rays have been correlated with cancers such as melanoma. Our products come in many different materials that will protect us from harmful UV rays, which are prevalent across Florida due to its hot summers!
Cool Down Exterior Spaces
The best way to enjoy Florida homes is by blocking out the sun with motorized outdoor shades. Reef Window Treatment's products provide an excellent option for those who want cool outdoor living spaces but still have access to sunlight and a great view of their yard from inside the patio area.
Our shades not only block UV rays, which can cause skin irritation or premature aging in some people; it also keeps rooms cooler on hot days because most shades offer relief against uncomfortable temperatures during summer months when you're sweating under bright sunshine!
Rain Protection
Not only do our motorized shades offer a measure of rain protection, but they also allow you to enjoy an uninterrupted meal outdoors! It's the perfect way for those who live in areas prone to sudden showers.
The Benefits Of Motorized Shades
Motorized shade systems do all of the work for you, so you won't have to go and rush to open or shut them manually. They feature an integrated motor that manages the opening and shutting of said shades, thus ensuring that you always have the best look possible.
Motorized Outdoor Window Shades
Perhaps one of the finest examples of window shades like this today is the Hunter Douglas PowerView collection, which has a particular set of features designed to make window management much more accessible.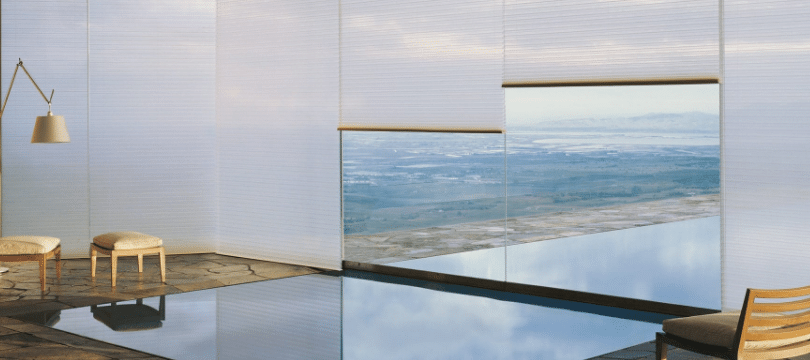 Features
PowerView branded shades can integrate with Siri on Apple HomeKit devices and the Google Assistant and Amazon Alexa so that you can command them with your voice. This feature should make them an attractive option both for private residences as well as commercial properties. It's this latter usage that might soon be the fastest growing one, after all.
Options
An option scheduling feature allows your system to manage the shades automatically, so they open and shut autonomously based on the time of day. On top of this, you can use the included Pebble remote control. While the PowerView app works as well, this Pebble control lets you operate your windows as though they were any other remote-controlled device. As the name suggests, the Pebble comes in a convenient small package that's easy to hold and use no matter where you happen to be in a room.
Installation
Installation isn't any more difficult than any other form of outdoor shade and should generally follow the same pattern. Those who are already adding motorized shades anyway shouldn't find that the installation costs are considerably greater in any way.
Add Automatic Outdoor Window Shades To Your Home At Reef Window Treatments
Reef Window Treatment makes outdoor living more luxurious. We can provide options for UV rays and solar protection, as well as for matching styles in your Florida area.
Do you have a bank of windows on your home that could benefit from automatic outdoor window shades? If so, then make sure to contact us online, so our team can help you find a roller shade treatment that can get you the look you desire.